Vehicle electrics and electronics problems
The days when the electrical system of a car consisted of a horn, lights and the ignition system (and when even windscreen wipers were purely mechanical) are long behind us. In every part of life, electronics have progressed enormously and this is certainly true of the automobile industry. It is absolutely no exaggeration when it is widely stated that the average car today incorporates more computing power than the original Apollo moon landing craft. Moreover, it does so in conditions that in some ways are just as harsh, such as extremes of moisture, temperature and vibration.
The wiring and electrical system in a modern vehicle is likely to include numerous computer circuits, controlling everything from the way the engine runs, through safety features and on to comfort items. A brief examination of the electronic specification for a recently produced high-spec car shows that separate computer-controlled circuits are responsible for engine management (including the diesel particulate filter and exhaust gas recirculation systems), power steering control, anti-lock braking, anti-skid provision, adaptive suspension, climate control, central locking, security systems, instruments, radio and CD player, satellite navigation, voice recognition, Bluetooth linking to a mobile phone, automatic lighting and wiper control, gearbox, and even things like interior lights, electric widows and the electric sunroof.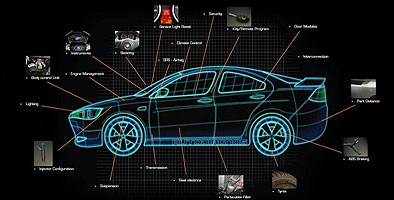 People who are old enough to remember cars of the 1950s and 1960s (and those of the 1970s and 1980s for that matter) will acknowledge that whilst massive advances have been made in overall terms regarding electronics, the one area that really matters is reliability. In this regard, there is also no doubting that significant progress has been made. Vehicles today are extremely reliable overall, and especially in terms of electronic and electrical systems. However, there is of course a difference between 'more reliable' and 'fault free'! Although cars of today generally achieve remarkably high mileages without any problems, when things do go wrong, they can be both difficult to identify and sometimes extremely costly to repair. This is especially true, because in today's cars, many systems 'talk' to each other. The result can sometimes be that a very simple problem can result in many other systems going into fault mode or simply not working.
At MK T and B Centre, we have the equipment and expertise to deal with virtually any electronic fault on virtually any vehicle. We have invested in the very latest hardware and computer software, enabling us to run extensive diagnostic tests in order to rapidly and effectively establish the cause of faults or problems. Better than that, once we have identified a fault, we have the contacts within the trade and the knowledge to provide the lowest possible cost solution. The special services we provide include programming vehicle remotes and remote keys, DPF problem diagnosis and repair, EGR removal, ECU decoding, ECU programming, engine remapping and vehicle diagnostics. If you have any problems with vehicle electronics, please contact us for assistance.