Vehicle exhaust emissions linked to tuning, repairs and alterations
There is currently a considerable amount of of confusion regarding compliance with exhaust emissions standards for used vehicles, in particular related to topics such as DPF systems, EGR systems, engine remapping end adhering to the requirements both of the law in general and of the statutory MOT test.
For many decades, regulations have been in force in countries throughout the world with regard to vehicle exhaust emissions. Understandably, the relevant limits have become more stringent over recent years, and automobile manufacturers have investigated and used a wide variety of technically innovative solutions to provide the most cost effective way for their cars and commercial vehicles to meet the necessary standards. Quite frequently, these are 'broad brush' approaches, tailored to the needs of economies of scale. As vehicles become older, the amount of exhaust emissions generally increases and whilst MOT standards are relatively strict, the issue of aging obviously has to be taken into consideration. In addition, older vehicles may suffer problems and faults with some of the technology. In particular, DPF and EGR systems (standing for, respectively, diesel particulate filter, and exhaust gas recirculation) can cause problems resulting in worse exhaust emissions. Frequently, EGR removal is seen as a relatively low cost way to keep a vehicle on the road and running properly and may well be appropriate in some circumstances. However, a DPF filter, if originally fitted from new, is an MOT test requirement and effectively also a legal requirement, so it must remain in place.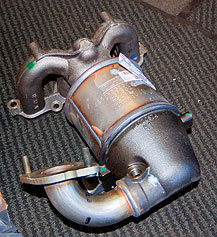 The first fact to bear in mind is that any modern vehicle fitted with a DPF or EGR system will have an electronic engine management system. This system incorporates a powerful computer in the form of an electronic control unit (ECU). Monitoring many external factors, such as engine and road speed, engine and external temperature, humidity, etc., the ECU controls the timing of ignition and the amount of fuel injected into the engine, ensuring economy and performance, and low emissions levels. Exhaust gasses are subsequently 'cleaned' by passing through a catalytic converter and in the case of many modern diesel engines, a diesel particulate filter. In addition, methods such as exhaust gas recirculation (EGR) are used to reduce initial emissions.
However, this is where the 'broad brush' approach comes into play. Modern ECUs and sensors are capable of immense accuracy, however, vehicles need to be sold across a wide variety of countries and varying fuel quality in particular is a major factor for manufacturers to consider. Currently, there is no effective technology to 'measure' fuel quality in the context of a vehicle. With petrol engines, it is possible to incorporate 'knock sensing', which can ascertain some factors, but this is relatively crude and to ensure reliability, manufacturers understandably err on the side of caution. Worse, with diesel engines, this is simply not possible. Taking into account factors such as extended use at high altitude in some regions, and particularly again, variable fuel quality, it is obvious that to avoid costly engine damage, manufacturers opt for the 'lowest common denominator' in terms of engine management settings. This enables vehicles easily to meet required emission standards, but inevitably involves compromises in terms of overall efficiency and performance. It also not infrequently the case that engine output is deliberately reduced in order to fit into specific tax bands.
In view of the potential savings resulting from more-efficient running, engine remapping is becoming relatively common in the UK, and one of the main questions we are asked is whether this will have any adverse effects on exhaust emissions, and according cause any potential issues with future MOT tests. Based on experience, we can certainly state that there are no negative effects on exhaust emissions if remapping is carried out using properly developed software. In fact, in the majority of cases, as the prime purpose of remapping is to enhance and improve efficiency, with the result that exhaust emissions are actually reduced.
So, how does all this relate to a 'normal' motorist in the UK? The first point to bear in mind is that no matter how sophisticated the system and your car, it is almost certain that your vehicle is not setup to run at its maximum potential. The second point is that maintenance and repair techniques such as EGR removal, as long as they are accompanied by proper reprogramming of the ECU, will result in your vehicle being perfectly able to pass the emissions requirements of the MOT test. With regard to DPF system faults, we have the correct equipment to diagnose problems efficiently and correctly, and can offer a range of services, from on-site regeneration to full cleaning and repair.