Car keys and vehicle remotes from MK T and B Centre, Milton Keynes
Whatever your key requirements, we can nearly always help
Have you lost your car keys or broken one? Has your vehicle remote stopped working? Do you need a spare key or remote? Then contact us!
As well as cutting keys and supplying remotes, for a great many newer vehicles we can now also offer a 'cut to code' service. This means that even if you do not have any of the originals, we are still usually able to provide and correctly programme replacements. All our keys are cut in our workshop using the latest laser-cutting machines to ensure total accuracy. Similarly, for vehicle remotes we have the most up-to-date computer programming equipment and software to ensure complete compliance with original standards. If you are reasonably local to us, we are able to provide an off-site service, so there is no need for you to be stuck and to face an excessive bill for having your vehicle recovered and taken to a main agent.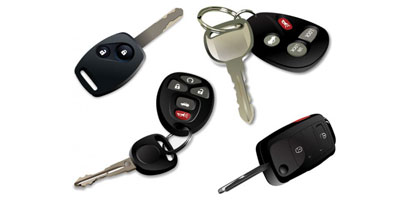 Please bear in mind that 'cut to code' may require factory authorisation for some vehicles, which we cannot guarantee to be immediate as this is obviously outside our control. If your vehicle has been personally imported into the UK (rather than supplied new from a UK franchised dealer) we also may not be able to offer a cut to code service, though in many cases this is still possible. Please also note that for obvious security reasons, we will require proof of ownership in order to cut to code. We hold stocks of key blanks and remotes, and can obtain almost any that are not in our stock within a few hours at most. We also keep blanks of older-style keys, so can usually offer a key-cutting service for classic cars, however, these cannot be cut to code as manufacturer data is usually not available. In addition, we also keep a range of domestic and commercial key blanks and can cut all Yale-type keys on the spot. Regrettably, we are not able to cut deadlock keys.
Please do not buy a second-hand remote key
Please note: We are coming across an increasing number of cases where second-hand vehicle remotes or key cards are being offered for sale second hand on various Internet and auction sites. Although some are able to be programmed, a substantial proportion of modern vehicles are supplied new with remotes that are coded to work only with the chassis number of the vehicle. This is in the form of a 'one-time' code, and these remotes cannot be reprogrammed to work with a different car. The new replacement remotes we supply are correct factory types, which are uncoded and which we can programme correctly for your vehicle. Again, once programmed, these mostly cannot be reprogrammed to work with a different car. Because of this, although they may appear at first to be a sensible, lower-cost option, we strongly advise against buying any used remote, as this may end up a complete waste of money.
We can supply keys and remotes for the following
Below we have listed the most common car key and remote replacements we are able to provide. However, even if your vehicle is not listed we may still be able to help, or be able to order-in replacement keys, remotes or key cards. Please be aware that for some manufacturers, at present the latest model vehicle remotes are only available direct from main agents and cannot be obtained elsewhere.
ALFA ROMEO
All standard and remote keys
ASTON MARTIN
Virtually all keys and remotes up to apporximately year 2000 models (cut to code normally requires factory authorisation which may not be immediate)
AUDI
All standard and remote keys up to approximately year 2000 models
BENTLEY
Virtually all standard keys. Remotes up to approximately 1998 models
BMW
All standard keys from the 1960s onward. All remote keys up to approximately year 2000 models
BRITISH LEYLAND
All keys
CITROEN (full details)
Standard keys for earlier models. All remote keys
DAIHATSU
Most keys
FIAT
All standard and remote keys
FORD (full details)
All keys and remotes
HONDA
All standard and remote keys
HYUNDAI
Virtually all standard and remote keys
JAGUAR
Virtually all keys. Remotes up to approximately 1999 model year
KIA
All keys
LEXUS
Virtually all standard and remote keys (please advise if your vehicle is a 'grey import' as we may not be able to offer a 'cut to code' service)
LOTUS
Virtually all keys and remotes
MAZDA
All keys
MERCEDES-BENZ
Virtually all standard keys. Remotes and keyless entry cards up to approximately 2000 model year
MG
Virtually all keys and remotes
MINI
All keys and remotes
MISUBISHI
Virtually all standard and remote keys (please advise if your vehicle is a 'grey import' as we may not be able to offer a 'cut to code' service)
NISSAN
Virtually all standard and remote keys (please advise if your vehicle is a 'grey import' as we may not be able to offer a 'cut to code' service)
PEUGEOT (full details)
Standard keys for virtually all models from the 70s onward. All remote keys
PORSCHE
Virtually all standard keys. Some remote keys
RENAULT (full details)
Standard keys for virtually all models. Renault keycards (key cards) and all remote keys
ROLLS ROYCE
Virtually all standard keys. Some remote keys
ROVER
All keys and remotes
SAAB
All keys and remotes
SEAT
All keys and remotes
SUBARU
Virtually all standard and remote keys (please advise if your vehicle is a 'grey import' as we may not be able to offer a 'cut to code' service)
SUZUKI
Virtually all standard keys and remotes
TOYOTA
Virtually all standard and remote keys (please advise if your vehicle is a 'grey import' as we may not be able to offer a 'cut to code' service)
VAUXHALL (full details)
All keys and remotes
VOLKSWAGEN
All standard keys. Remote keys up to approximately 2000 model year
VOLVO
Virtually all keys and remotes