ECU programming at our Milton Keynes premises
In many ways, modern cars are just like a home computer, in particular because manufacturers quite frequently introduce updates to the running program to iron out any 'bugs' and to rectify problems that become apparent over time. With a car, this can be for many reasons apart from potential faults, for instance to enable smoother running under certain conditions or to improve economy and performance. In addition to manufacturer updates, programming is required when an electronic control unit (ECU) is repaired or replaced - and even to programme things out, such as turning off troublesome systems or unwanted operations. For a home computer, these upgrades are usually installed automatically when you turn the PC off after having been connected to the Internet. Of course, cars are a somewhat different matter. Even though there may be updates to the software in ECUs and engine management systems, most people will be unaware of these, as manufacturers rarely make announcements about 'routine' upgrades.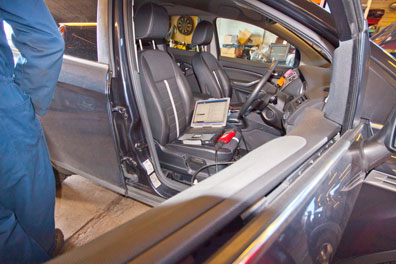 In addition to possible upgrades, many components also have to be correctly configured to a specific vehicle if they need to be replaced. In many cases, replacement or repaired electronic control units simply will not work unless there are correctly 'coded' to the vehicle. These include main engine ECUs, ABS modules, electronic steering modules, airbag ECUs, instrument clusters and many others. These all are configured through programming, which is primarily so that the unit installed 'knows' what other systems are fitted to your car, as many of these systems communicate with each other via an electronic network.
We specialise in vehicle electronics at MK T and B Centre and continually invest in the latest hardware and software so that we are able to decode and programme a vast range of electronic units. We can provide ECU updates for many models from Ford, Vauxhall, Jaguar, Land Rover, Peugeot, Citroen, Renault and other makes, and can identify and resolve problems with almost any control unit. In addition, we keep up to date with all the most recent software changes for a vast range of manufacturers and vehicles, enabling us to get the very best from your car, enhancing efficiency - and thereby performance and economy. From personal experience with our own Ford vehicles (petrol models, though diesel engines show similar benefits), carrying out an engine ECU update made a huge difference to the acceleration and general performance. Each car also seemed to gain a few extra miles per gallon, and even our own courtesy car (a Fiesta) stopped feeling as though it was holding back, which it had always done since it was brand new! However, we should point out that obviously an ECU can only be updated if there is a newer calibration file available for your car. We can very quickly check this for you.
If you car requires a replacement instrument cluster, for most makes we are able to carry out speedometer correction so that the original mileage is put back into the new instrument. This will stop anyone who buys your car wondering whether the mileage is correct. We can also correctly programme a massive range of electronic units so that in the event you have a fault, we can save you a fortune compared with the potential cost of having to go to a main agent.
Please do not consider buying a second-hand ECU
As mentioned throughout our website, if you encounter an electronic fault or a problem with an ECU, please do not be tempted to purchase a second-hand replacement from the Internet. In many cases, ECUs, especially engine management units, are initially 'one-time coded' to a specific vehicle. This code cannot subsequently be changed or over-written, therefore the unit will never be able to be correctly programmed to work with a different car. In many cases, these control units will not work at all, and in the worst-case scenario, they can cause damage to other components. In the event of a problem with a unit of this type, we are able to have your existing unit repaired in most cases, or can source and correctly programme a new unit at a considerable saving from main dealer prices.