Car keys and vehicle remotes. A short history
Back in the days when cars first started to appear on roads around the world, security was extremely basic at best, or mostly nonexistent. Nearly all of the earliest cars were open-topped and just had an ignition switch, as theft was not a problem at the time. Actually, any potential thieves probably couldn't drive, and the number of cars around was so small that their presence was obvious to all and sundry! Although rudimentary locks soon started to appear as cars became more commonplace, in essence the situation changed little right up until near the end of the twentieth century, when most cars still had comparatively simple locks that were similar to domestic doors, though somewhat less complicated. In fact, until relatively recently, vehicles have been remarkably easy to break into.
The major revolution in car keys came about only a few years ago. The seeds for this were sown by the introduction of central locking and the spread and increasing sophistication of miniaturised electronics that could be used in cars. Since then, advances have been made at an incredible pace. Electronic systems for vehicles came of age with the potential brought about by the availability of relatively low-cost computer chips, and manufacturers were quick to realise the inherent possibilities these systems offered. Further enhancements resulted from short-range radio-frequency technology, allowing keys to communicate with vehicle systems. Many of these advances were also spurred on by increasing levels of car crime. As insurance costs began to rise, it was in everyone's interests to significantly improve the theft resistance of cars and commercial vehicles.
Coupled with this need for increased vehicle security, the next stages of development came quickly. Car makers now had the opportunity to link a car and its keys using remote key fobs, which soon became incorporated into the key itself. This system meant that you only had to be close to your car, push a button on the key and the vehicle would lock or unlock. Further refinements meant that additional functions could be incorporated. Windows and electric sunroofs could automatically be closed when you locked your car, and convertible vehicles with electro-hydraulic hoods could open and close at the mere push of a button. The list of car makers using these devices quickly became almost endless as manufacturers competed with each other to offer the most comprehensive systems.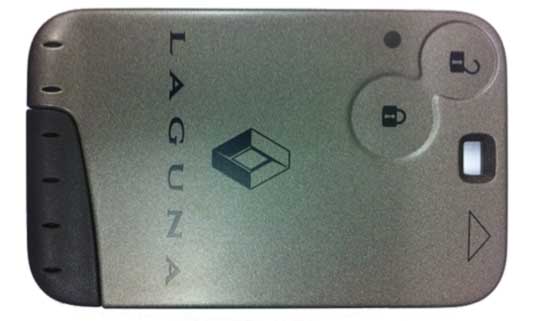 The final stage of development started with systems like the Renault key card. With the card (a system also now used by Mercedes, Bentley and many other manufacturers), the traditional key disappeared entirely. Initially incorporating locking and unlocking buttons similar to a remote key, inserting the card into a slot on the dashboard triggered all the functions that had previously been associated with the physical act of inserting and turning a piece of metal. Further developments mean that on some vehicles, you no longer even need to touch a button. Simply having the card in your pocket means that when you touch the car's door handle, it will recognise you and unlock, similarly, the car can then be started at the touch of a button on the dashboard.
Incredible progress, but as with all things it has its downsides. Damaged or lost keys used to be a nightmare at the best of times as it inevitably resulted in having to completely replace locks, including the ignition and steering lock. Most older drivers remember vehicles with a large selection of keys to open different doors! However, with today's electronic systems the nightmare can become a complete and very expensive disaster. until recently, the only option was to have all the vehicle locks replaced, together with replacement keys and remotes and full reprogramming. A horrendously costly job, not to mention an incredibly inconvenient and time-consuming one. However, just as technology produced the problem, technology has also produced the solution. The latest key cutting and remote-programming technology can offer a service that allows replacement keys and remotes to be provided for many late-model vehicles even if no originals are available. We have this technology, and as a result, in most cases even if you have lost or broken every key or remote for your car, we can provide replacements. This even applies to systems like Renault key cards, offering you a comparatively low-cost solution to a major problem. Of course, the best advice is to ensure that you always have at least one spare, working remote tucked away at home. If you do so, please remember to check it every now and again though, as most have a battery built in, which can of course fail in time. There is little that is more annoying than knowing you have a spare remote, and then finding out that it no longer works at the time when you actually need it. Plus, of course, we all tend to ignore the problem and it is all too easy to throw away a broken remote, start using the spare and then forget to sort out a new 'spare'.
If you remember, then contact us to obtain a spare remote or spare key before you have a problem. However, even if the worst comes to the worst, for all your car key requirements we can help to solve a nightmare problem by providing a straightforward solution. Whatever the issue, call us and we will be pleased to help. At MK T and B Centre we can provide Renault key cards, Ford keys, Ford remotes, Peugeot remote keys, Citroen remote keys, Vauxhall remote keys and standard keys for virtually any vehicle, together with remotes for a vast range of other cars and light commercials.