Electronic Control Unit (ECU) decoding
All modern vehicles are fitted with a number of electronic control units (ECUs). These govern many functions, from engine management to security and safety, and even minor things such as interior lighting. When a car is purchased from new, manufacturers normally supply the immobiliser code and other details with the vehicle. This code is usually required for programming new keys and vehicle remotes, and replacing or reprogramming some ECUs and other units; even instruments. If this code is lost, the owner will normally have to provide a main agent with documented proof of ownership in order to obtain a replacement. The dealer will then apply to the manufacturer for the code to be sent to the owner, which obviously often means delays, inconvenience and significant cost. There is likely to be more than one ECU in your vehicle, and all are synchronised to work together and are programmed to 'know' the other units that are present.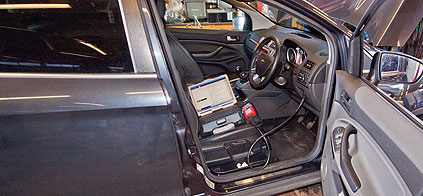 We have the latest hardware and computer software and in many cases can access the system in order to 'read' specific codes. Details are shown below of a few common issues we are able to assist with. We have the equipment to be able to de-code, re-code and programme ECU units for a massive range of vehicles. Please contact us for information. Please note that buying a second hand ECU usually proves to be a costly mistake, as many units are 'one-time' coded to specific vehicles and once removed and fitted to a different car not only may not work, but are impossible to reprogram and may even cause damage to other components. In the event of failure, we are able to send your original unit away for repair, saving you potentially a great deal of money. Even in the worst-case scenario, we can provide, fit and programme new replacement units at a significant saving.
Manufacturer details
Vauxhall
Almost all Vauxhall models are supplied with a 'passcard' from new, which has been the case for many years. This card contains various information, including the radio/audio system code, key and remote key details, chassis number and other electronic system code(s). For obvious security reasons, owners should not keep the card in the vehicle. However, this makes it easy to misplace and the information usually takes a dealer up to a week or longer to obtain. For many Vauxhall models, we are able to 'read' the security code from within your car's ECU memory in a few minutes if the card and details have been lost. This will enable us to carry out full diagnostic fault finding, key programming and other work that may be required in the event of a problem.
Ford
From around 2004, depending on the model, Ford have used what is known as an 'in-code out-code' system. When programming a new key or replacement Ford remote, or performing certain other functions, an out-code is generated by the car's immobiliser system, then the correct in-code has to be entered to gain valid programming access. This all has to be done at the same time, and most importantly, using the correct diagnostic and coding software to avoid potential damage to the ECU and its coding. We have up-to-date, correct software to be able to code all Ford remotes correctly. For any other ECU issues or faults, we can get existing units repaired or can provide replacements at very reasonable cost.
Renault
Renault key cards are notorious for causing programming issues for inexperienced garages or people without the correct equipment and software. We have the correct diagnostic tools, which do not need the immobiliser security code to be provided in order to gain access to key programming or key card programming within the ECU. This will work correctly on Renault cars from 2002 onwards that are equipped with the 'canbus' system. For pre 2002 models, we will need you to supply the immobiliser security code that came with your car, or we will have to get this for you in order for new keys and remotes to be programmed. As above, we can assist with any other ECU problems or faults.