Specialist electronic diagnostic services for cars and light commercial vehicles
Faults with vehicle electronics systems can be difficult to diagnose and as a result, can sometimes end up being extremely costly to rectify because of the amount of time, and therefore labour costs, involved. Many of the electronic components and systems incorporated in a modern vehicle communicate with each other through a network of connections, and it can often be the case that what appears to be a fault with one thing may actually be caused by something entirely different. For example, nearly all modern cars are fitted with speed sensors on each wheel. A problem with one of these will cause a fault warning and probably the failure of the anti-lock braking system (ABS) and, if fitted, traction control system. However, these sensors are also used for other purposes, including fuel consumption readings on trip computers and providing data for the engine management system. As a result, the failure of a wheel speed sensor (which could be caused by something as simple as a loose connection) might cause dashboard warning lights for multiple system failures to illuminate and give erroneous readings and reduced performance. In some circumstances, failures such as this can also mean that the engine management system will go into 'limp home' mode, meaning a dramatic loss of power. Obviously, any failure or warning light needs to be investigated promptly, as it may mean safe operation is compromised, or performance and fuel consumption are drastically adversely affected. However, the actual cause of the fault could be relatively minor.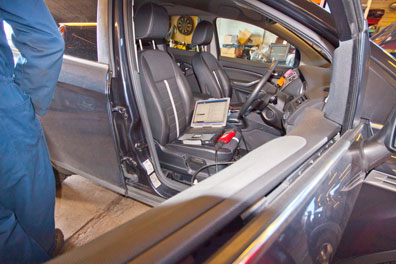 It is a regrettable fact that many garages - and even main agents in some cases - struggle to deal with with electronic problems, as the diagnosis of faults requires highly-specialised equipment and more importantly, the training and experience to use it properly. We have up-to-date codes, software and programs for a massive range of vehicles.
At MK T and B Centre, we have made substantial investments over many years in order to have the very latest technology required to trace the source of electronic faults correctly and quickly. We continually update our diagnostic hardware and software to ensure we remain 'in front' and our systems are truly state of the art, in some cases in advance of that used by franchised dealers. Further, our technicians are fully trained and highly experienced. We are able to connect our equipment to your vehicle and expertly 'read' the stored information and codes in order to ascertain the actual fault. As a consequence, in the vast majority of cases, we can carry out any necessary repairs quickly and economically.
Our ability to diagnose vehicle electronics or electrical problems efficiently and expertly means that no matter what the issue, we can resolve the vast majority of problems or faults with the minimum of time spent, and also therefore at the lowest possible cost to our customers. Our contacts with independent companies and various suppliers also mean that even if the fault turns out to be a significant problem caused by the failure of an electronic control unit (ECU) or another part, we can often have your existing unit repaired cost effectively in nearly every case. Even if a unit is damaged beyond repair, we can source a suitable replacement at the lowest possible price. We can also programme replacements or repaired units correctly, to ensure your vehicle continues to run at its peak level of performance and efficiency, and of course, safety.
Many 'black box' units in modern vehicles are coded to work only with the car they were originally fitted to, and the cost of replacement units from manufacturers can be extremely high. However, in the vast majority of cases, we are able to repair or reprogram correctly.
If you have any electronic faults, please contact us without delay.